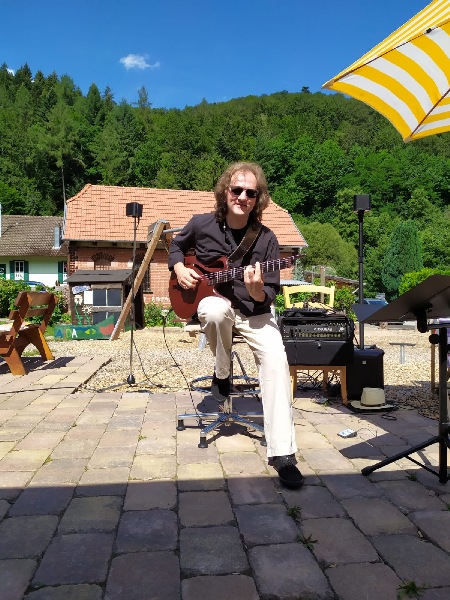 Eigene Arrangements von folgenden Pop Stücken:

Achy Breaky Heart Billy Ray Cyrus
Africa Toto
Ain´t no sunshine when she´s gone Bill Withers
All of me John Legend
All you need is Love Beatles
Always look on the bright side of Life E. Idle (Monty Pythons)
Another brick in the wall Pink Floyd
Atemlos H. Fischer
Bamboleo Gypsy Kings
Beat it Michael Jackson
Billie Jean Michael Jackson
Bobby Brown Frank Zappa
Brothers in Arms Dire Straits
Califiornication Red Hot Chilly Peppers
Can´t help falling in Love Elvis
Chariots of Fire Vangelis
China Girl David Bowie
Classical Gas Mason Williams
Conquest of Paradise Vangelis
Cocaine JJ Cale
Come as you are Nirvana
Country Roads John Denver
Cover me in Sunshine Pink
Despacito Luis Fonsi
Dream a little dream of me Mamas and the Papas
Downtown Petula Clark
Drei Haselnüsse für Aschenbrödel Svoboda / Endlich
Dust in the wind Kansas
Earth Song Michael Jackson
Eleanor Rigby Beatles
Entertainer Scott Joplin
Everybody needs somebody sometimes Dean Martin
Every Breath you take Sting
Europa Santana
Fields of Gold Sting
Fragile Sting
Georgy Porgy Toto
Get up Stand up Bob Marley
Goldfinger 007
Halleluja Leonard Cohen
Happy Birthday
Heimweh (Memories are made of these)
Hells Bells AC/DC
Hey Jude Beatles
Hey, wir wolln die Eisbärn sehn Puhdys
Hinterm Horizont Udo Lindenberg
Hold the line Toto
Hotel California Eagles
How deep is your love Bee Gees
How long Ace
Hulapalu Andreas Gabalier
Human Nature Michael Jackson
I fahr Daimler Wolle Kriwanek
I´ll be over you Toto
Imagine John Lennon
I shot the Sheriff Bob Marley
Jambalaya Hank Williams
James Bond Theme 007 (M. Norman)
King of the Road R. Miller
Koa Hiatamadl H. v. Goisern
Knockin´on heavens door Bob Dylan/G´n´R
La Bamba Ritchie Valens
Lady in Black Uriah Heep
La Paloma S. Yradier
La Vie en Rose E. Piaf
Lemon Tree Fools Garden
Let it be Beatles
Let your love flow (Bett im Kornfeld) Bellamy Brothers
Live is life Opus
Mad World Tears for Fears
Man in the Mirror Michael Jackson (Tuck Andress)
Mas Que Nada J. Ben
Message in a Bottle Sting/Police
Moonlight Shadow Mike Oldfield
Moon River H. Mancini
Muse Mike Oldfield
Music J. Miles
Muss i denn, muss i denn... (Wooden Heart) (Trad) Elvis
My heart will go on Celine Dion
My Way Frank Sinatra
New York, New York Frank Sinatra
Nights in white Satin Moody Blues
Nightshift Lionel Richie
Non, je ne regrette rien E. Piaf
No time to die 007
Nothing else matters Metallica
No woman, no cry Bob Marley
Oinr isch emmr dr Arsch Schwoißfuaß
Ommadawn Mike Oldfield
One U2
Only Time Enya
Oye Como Va Santana
Penny Lane Beatles
Pinball Wizard Who
Poor Man´s moody Blues BJH
Pretty Woman Roy Orbison
Promenade in Nymphenburg S. Schwab
Proud Mary CCR
Purple Rain Prince
Ring of Fire Johnny Cash
Riptide Vance Joy
Rockin all over the world Status Quo
Roxanne Sting
Russians Sting
Samba Pa Ti Santana
Satisfaction Rolling Stones
Schwarzwaldmarie
Se Bastasse una Canzone E. Ramazzotti
Sentinel Mike Oldfield
Shadow on the wall Mike Oldfield
Shape of my heart Dominic Miller (Sting)
Sharp Dressed Man ZZ Top
Silk Road Kitara
Smoke on the Water Deep Purple
Smooth Operator Sade
Solsbury Hill Peter Gabriel
Something stupid Frank + Nancy Sinatra
Sounds of Silence Paul Simon
Space Oddity David Bowie
Stand by me Ben E. King
Stand by your man Wynette/Sherrill
Stairway to heaven Led Zeppelin
Stayin´Alive BeeGees
Streets of London Ralph McTell
Summer of 69 Brian Adams
Summertime Blues Eddie Cochran
Suzie Q. CCR
Sweet Caroline Neil Diamond
Sweet home Alabama Lynyrd Skynyrd
Tears in Heaven Eric Clapton
The River Bruce Springsteen
The Rose Bette Middler
These are the days of our lives Queen
Three little birds Bob Marley
Time Warp (Rocky Horror Picture Show)
To be with you Mr. Big
Über den Wolken Reinhard Mey
Viva Colonia Höhner
Volare Gypsy Kings
Walking on Sunshine Katharina and the Waves
Waterloo Abba
We are the Champions Queen
We will rock you Queen
We have all the time in the world 007
Westerland Die Ärzte
Wind of Change Scorpions
Windy and Warm J.D. Loudermilk (T. Emmanuel)
Wish you were here Pink Floyd
With a little help from my friends Beatles/Joe Cocker
Wonderful tonight Eric Clapton
Wonderful World Louis Armstrong
Wooden Heart (Muß i denn) Elvis
Yesterday Beatles
You are not alone Michael Jackson
You are so beautiful Joe Cocker
99 Luftballons Nena

und es kommen ständig neue hinzu......



Kukonzert, Höfen 26.08.2018 Solo: Spanische + Lateinamerikanische Musik von George Bizet, Gypsy Kings, Al Di Meola, Ottmar Liebert, Astor Piazzolla, Carlos Gardel, Santana, Tito Puente, Antonio Carlos Jobim, Jorge Ben, Heitor Villa-Lobos....

https://youtu.be/tvopmMQkNDc


oder auf meiner YouTube - Seite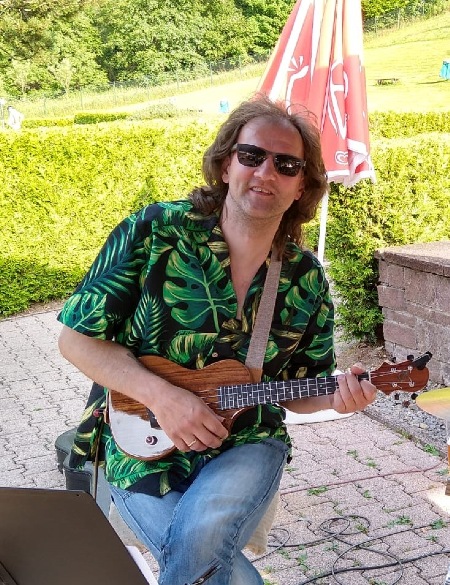 Pop: "Fields of Gold" von Sting
"Beat it", Man in the Mirror" von M. Jackson
"Your Song" von Elton John
"I see Fire" von Ed Sheeran
"Smooth Operator" von Sade
"Africa" von Toto
"All you need is love" von den Beatles
Riptide, Black Velvet, Wonderful World, Time after Time,
How deep is your love, Volare, All of me.......

Latin: "Deixa", "Chara" von Baden Powell
"Samba Pa Ti", "Europa", "Oye Como Va" von Santana
"Agua & Vino" von Egberto Gismonti
"Belo Horizonte", "Toscana" von Sigi Schwab
"Mas Que Nada" von Jorge Ben
"Girl from Ipanema", "Wave", Agua de Beber" von Jobim
"Black Orpheus" von Luis Bonfa
Jazz: Blue Monk, There will never be another you, Stolen Moments,
Sophisticated Lady, Blue Bossa, Spanish Guitar Blues,
Caravan, Breezin,.....
"Orient Blue" und "Mediterraean Sundance" von Al Di Meola
"Last Train Home", "Travels", "Message to a Friend" von Pat Metheny
Gospel: "The Lord´s Prayer" von Larry Carlton
"Halleluja" von Leonard Cohen
"Geh unter der Gnade" von Manfred Siebald
Blues: "Tears in Heaven" von Eric Clapton
"Hideaway" von Freddie King
"Stormy Monday" von T Bone Walker
"Rude Mood" von Stevie Ray Vaughan
Reggae: "No Woman No Cry" von Bob Marley
Klassik: "Chiquilin de Bachin" von Astor Piazzolla
"Mallorca", Asturias" von I. Albeniz
"Choros No. 1" von Heitor Villa Lobos
"Air", "Jesus bleibet meine Freude" von Johann Sebastian Bach "Etüde in Hm" von Fernando Sor
"Greensleeves", "Notturno", "Recuerdos de la Alhambra"....
o.ä.
Und Ukulele Solo:

Aloha Oe
Bohemian Rhapsody
Viva La Vida
Banana Boat Song
........

Und vieles mehr. Einfach nachfragen......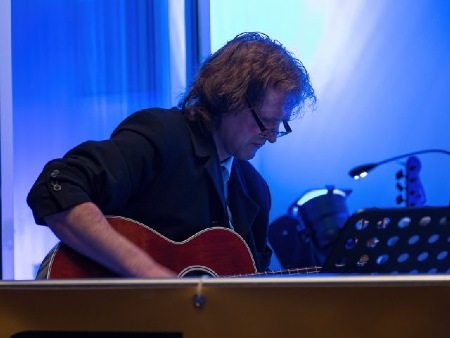 Anfragen und Angebote: info@gitarrenschule-volz.de